Notice on Student Dormitory Network service during 2021 Spring Semester.
[ 中文 ]
Description:
In order to maintain good quality of service and comply the fair usage policy of the student dormitory network, the Computer and Network Center will enforce the new policy during the Summer Semester, starting from 2021/03/10 by the same time of mechanism access and network traffic control. Resident students or guests must register to the Dormitory Network Management System before using network services. This registration needs to be done only once during the period of residence and the dormitory network service will be fully accessible only after user's registration is successfully completed.
Resident students or guests should note the following below and, after the registration begin, complete the registration procedure by using their own computers to connect to their allocated network jack.
Note: Due to the epidemic situation, the implementation of network traffic control is temporarily suspended to facilitate related online teaching. However, students are requested to reduce the amount of non-academic use, so as not to affect the rights of other students.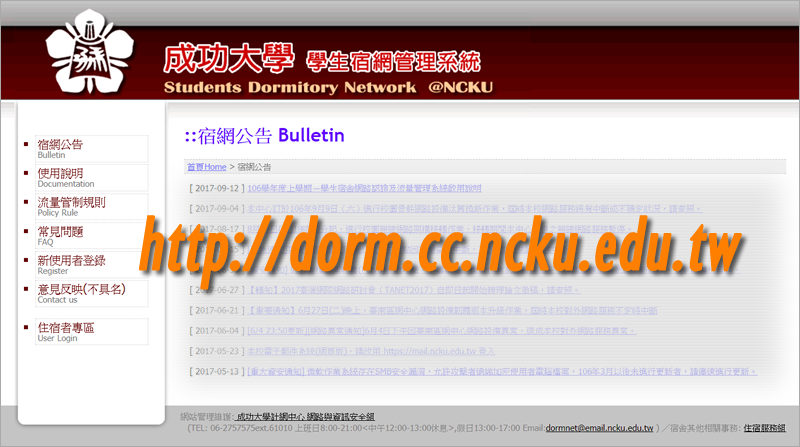 Registration time:

2021/03/10 AM10:00
URL of registration:http://dorm.cc.ncku.edu.tw
Notes:
Please comply with the following regulations:

User can only access the url: http://dorm.cc.ncku.edu.tw before his/her registration is successfully completed when the newly registration policy started.

The dormitory network service is fully accessible only after user's successful registration.
During registration process, user should use his/her own computer to connect his/her own network jack and make sure the following:

The IP & DNS settings are automatically assigned

(acquired); no proxy and no VPN services are required to set.
This website is limited access to the IP address in NCKU campus network.

Do not connect to the mobile network or other Wi-Fi network.

If you use a

network adapter

(USB>RJ45). Do

not

borrow it.
Using a browser (IE is not recommended) to open the URL of registration. Click the "Register" page to register.

Upon successfully completing the registration, user's computer and the network socket IP are bound to user's student ID. so

you cannot replace the computer or the network socket.

If you need to replace computer, please login and click the "change device" function.
If students use the network abnormally or illegally (e.g.: attack), the Computer and Network Center will suspend the students' network after receiving the information security notification, and resume it after processing.
It is not prohibited to use the Wi-Fi router. However, the Computer and Network Center assumes no responsibility for any consequence of using Wi-Fi router or the configuration setting of Wi-Fi router.
For network traffic policy, change device, etc., please refer to the dormitory network website.
For more information, please contact the Computer and Network Center: